Sir Michael Philip Jagger, popularly known as Mick Jagger, has been a monumental figure in the world of rock music.
As the iconic frontman of the Rolling Stones, his influence and contributions to the music industry are unparalleled. Today, we will discuss the life, career, and more of this legendary artist.
| | |
| --- | --- |
| Full Name | Sir Michael Philip Jagger |
| Date of Birth | 26 July 1943 |
| Origin | Dartford, Kent, England |
| Band | The Rolling Stones |
| Solo Albums | "She's the Boss" (1985), "Primitive Cool" (1987) |
| Film Ventures | Co-founded Jagged Films |
| Awards | Inducted into the Rock and Roll Hall of Fame, UK Music Hall of Fame |
| Marriages | Bianca Pérez-Mora Macias, Jerry Hall |
| Children | Eight |
| Philanthropic Efforts | L'Wren Scott Scholarship at Central Saint Martins, Environmental conservation, Humanitarian efforts |
| Net Worth (2023) | Estimated around $400 million |
| Business Ventures | Real estate, Investments in tech startups and fashion brands, Merchandising and branding |
| Fitness and Lifestyle | Rigorous workout routines, balanced diet, meditation and mindfulness |
| Future Projects | Collaborations with contemporary artists, potential autobiography, hinted Rolling Stones tours |
Early Life and Education
Mick Jagger was born on 26 July 1943 in Dartford, Kent, England. He grew up in a middle-class family and was introduced to music at a young age.
Jagger's early passion for singing was evident as he was part of the church choir and was always fascinated by singers on the radio.
Childhood Interests: Jagger always had a penchant for singing. As a child, he was part of the church choir and loved listening to singers on the radio.
Meeting Keith Richards: In September 1950, Jagger and Keith Richards met as classmates, marking the beginning of a lifelong friendship and collaboration.
Musical Beginnings: In the mid-1950s, Jagger formed a garage band with his friend Dick Taylor, playing songs by renowned artists like Muddy Waters and Chuck Berry.
The Rolling Stones Era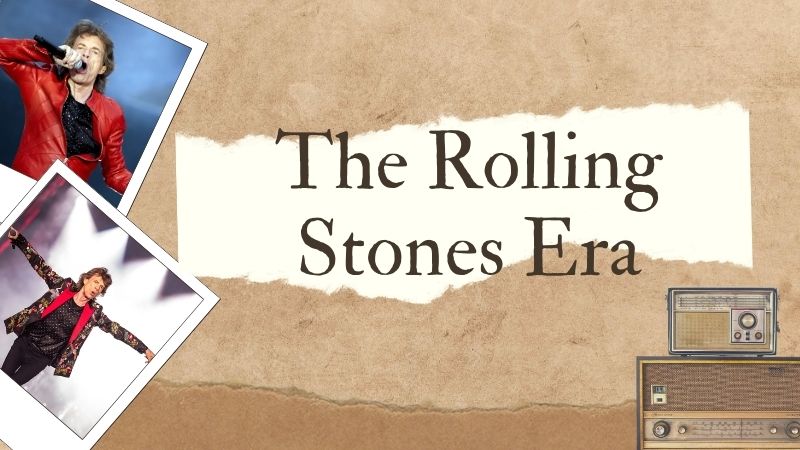 The Rolling Stones, formed in the early 1960s, started as a band playing in a basement club in London. Their initial performances were influenced by American rhythm and blues artists.
Over the years, the band evolved, with Jagger and Richards writing most of the band's songs, establishing them as one of the most successful songwriting duos in history.
Formation and Early Days: The band's first appearance was at the Marquee Club in London in 1962. They initially played songs by American rhythm and blues artists.
Rise to Fame: With hits like "It's All Over Now" and "Little Red Rooster," the Rolling Stones quickly rose to fame. Their rebellious image set them apart from other bands of the era.
Turbulent Times: The late 1960s and early 1970s were marked by legal battles, drug issues, and internal conflicts within the band. Despite these challenges, their music remained influential and groundbreaking.
Solo Career and Other Ventures
While Jagger is best known as the lead singer of the Rolling Stones, he also embarked on a solo career in the 1980s.  His solo albums showcased his versatility as an artist, and he also ventured into film production and other collaborations.
Solo Albums: Jagger's first solo album, "She's the Boss," was released in 1985 and was followed by "Primitive Cool" in 1987.
Collaborations: Jagger has collaborated with various artists, including a memorable duet with David Bowie on "Dancing in the Street."
Film Ventures: In the 2000s, Jagger co-founded a film production company, Jagged Films, and produced several feature films.
Legacy and Influence
Mick Jagger's legacy in the music industry is undeniable. His energetic live performances, distinctive voice, and contributions as a songwriter have made him one of the most influential figures in rock music.
Awards and Recognition: Jagger has received numerous awards, including being inducted into the Rock and Roll Hall of Fame and the UK Music Hall of Fame.
Trailblazer in Music: Jagger is credited with bringing a unique style and sex appeal to rock and roll, influencing countless musicians over the years.
Personal Life and Relationships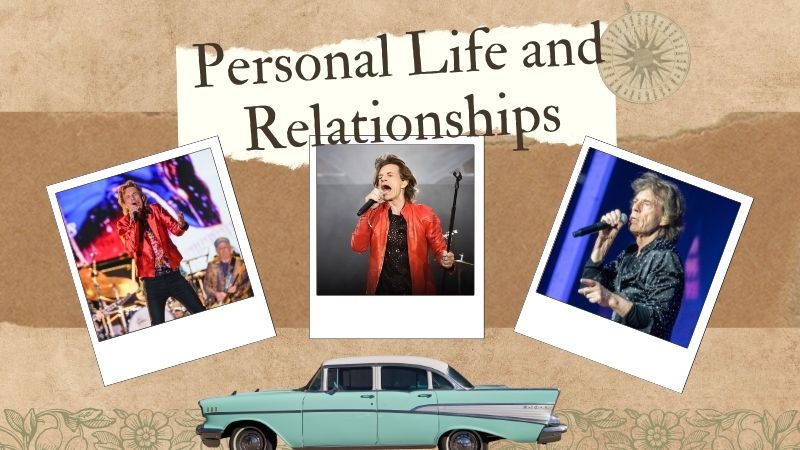 Mick Jagger's personal life has been as colorful and eventful as his musical career. His relationships, marriages, and friendships have often been in the spotlight, making him a constant figure in tabloid headlines.
Marriages and Relationships: Jagger has been married twice, first to Bianca Pérez-Mora Macias and later to Jerry Hall. He has also been romantically linked to several other notable personalities over the years.
Children: Jagger is a father to eight children, born from different relationships. Each of them has made their mark in various fields, from fashion to acting.
Friendships: Over the years, Jagger has forged close friendships with many prominent figures in the music and entertainment industry, including David Bowie, John Lennon, and Pete Townshend.
Philanthropy and Social Causes
Beyond the world of music, Jagger has been actively involved in numerous charitable endeavors and social causes.  His commitment to making a positive impact on society is evident through his various philanthropic efforts.
Education: In 2016, Jagger established the L'Wren Scott Scholarship at Central Saint Martins in London in memory of his late partner. The scholarship aims to support fashion students in their studies.
Environmental Causes: Jagger has been a vocal advocate for environmental conservation. He has supported various initiatives aimed at preserving wildlife and combating climate change.
Humanitarian Efforts: Over the years, Jagger has been involved in numerous fundraising events and concerts to support disaster relief, health initiatives, and other humanitarian causes.
Net Worth and Business Ventures
As of 2023, Mick Jagger's net worth is estimated to be around $400 million.  His wealth is not just a result of his musical career but also due to his astute business ventures and investments.
Real Estate: Jagger owns several properties around the world, including a historic mansion in Richmond, London, and a beachfront estate in the Caribbean.
Business Ventures: Apart from his film production company, Jagger has invested in various businesses, ranging from tech startups to fashion brands.
Merchandising and Branding: The Rolling Stones' brand is one of the most recognizable in the world. From iconic tongue logos to merchandise, the band's branding efforts have been a significant source of revenue.
Jagger's Longevity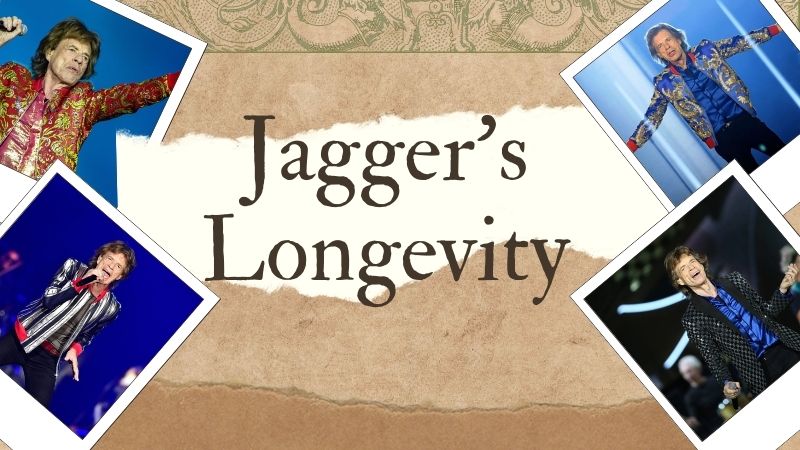 Mick Jagger's longevity in the music industry is not just a testament to his talent but also his incredible stamina and dedication to maintaining good health. Even in his late 70s, Jagger continues to exude energy on stage, leaving many in awe of his vitality.
Fitness Regime: Jagger is known for his rigorous workout routines, which include cardio exercises, strength training, and even ballet. His commitment to fitness is evident in his agile stage performances.
Diet and Nutrition: The rock legend follows a balanced diet rich in lean proteins, whole grains, and fresh vegetables. He often avoids processed foods and excessive alcohol.
Meditation and Mindfulness: Over the years, Jagger has spoken about the benefits of meditation and mindfulness in his life. These practices have helped him maintain mental clarity and focus amidst the chaos of the music industry.
Collaborations and Future Projects
Even as the years go by, Jagger shows no signs of slowing down. He continues to collaborate with contemporary artists and is always on the lookout for fresh and innovative projects.
Recent Collaborations: In recent years, Jagger has worked with artists like Dave Grohl, producing tracks that blend classic rock with modern sensibilities.
Future Endeavors: Rumors suggest that Jagger is exploring new musical genres and might be venturing into the world of electronic music. There's also talk of a potential autobiography, which fans eagerly await.
Rolling Stones Tours: Despite the challenges of the global pandemic, the Rolling Stones have hinted at future tours, ensuring that fans worldwide will still get to experience the magic of their live performances.
Reflections and Inspirations
Mick Jagger's journey offers numerous lessons and inspiration for both budding musicians and fans alike. His resilience, adaptability, and passion are qualities that many aspire to emulate.
Overcoming Challenges: Jagger's life hasn't been without its fair share of ups and downs. From band conflicts to personal losses, he has faced numerous challenges but has always emerged stronger.
Continuous Learning: One of the secrets to Jagger's enduring success is his willingness to learn and adapt. He has consistently reinvented his music to resonate with changing times.
Passion for Art: Beyond music, Jagger's love for art and culture is evident. He's an avid art collector and has often spoken about the influence of visual arts on his songwriting.
FAQs
Has Mick Jagger ever ventured into acting?
Yes, Mick Jagger has dabbled in acting over the years. He has appeared in several films and TV shows, showcasing his versatility as an artist.
Some of his notable roles include his performance in the film "Performance" and "The Man from Elysian Fields."
What instruments does Mick Jagger play besides being the lead vocalist?
Besides being an iconic vocalist, Mick Jagger is also proficient in playing the harmonica, guitar, keyboards, and percussion. His multi-instrumental skills have often been showcased in various Rolling Stones tracks.
How did the Rolling Stones get their name?
The Rolling Stones took their name from a Muddy Waters song titled "Rollin' Stone." Muddy Waters was a significant influence on the band during their early days.
Are there any books written about Mick Jagger's life and career?
Yes, numerous biographies and books have been written about Mick Jagger and the Rolling Stones. Some of the most notable ones include "Mick Jagger" by Philip Norman and "Life" by Keith Richards, which provides insights into Jagger's life from the perspective of his longtime bandmate.
Has Mick Jagger received any honorary degrees or academic recognitions?
Yes, in recognition of his contributions to music, Mick Jagger was awarded an honorary knighthood by Queen Elizabeth II in 2002.
Additionally, he received an honorary doctorate from the London School of Economics, the institution he briefly attended before pursuing a career in music.
What is the significance of the iconic "tongue and lips" logo associated with the Rolling Stones?
The "tongue and lips" logo, designed by John Pasche in 1971, symbolizes the rebellious and anti-establishment spirit of the Rolling Stones.
It has since become one of the most recognizable logos in the world of music and represents the band's enduring legacy and influence.
Final Words
Mick Jagger's journey from a young boy in Dartford to a global rock icon is a testament to his talent, passion, and dedication. His contributions to music, both as a member of the Rolling Stones and as a solo artist, have left an indelible mark on the industry and continue to inspire artists worldwide.
We've recently written about Fender acoustic guitars, so make sure to check our guide out and figure out whether or not they are worth purchasing.